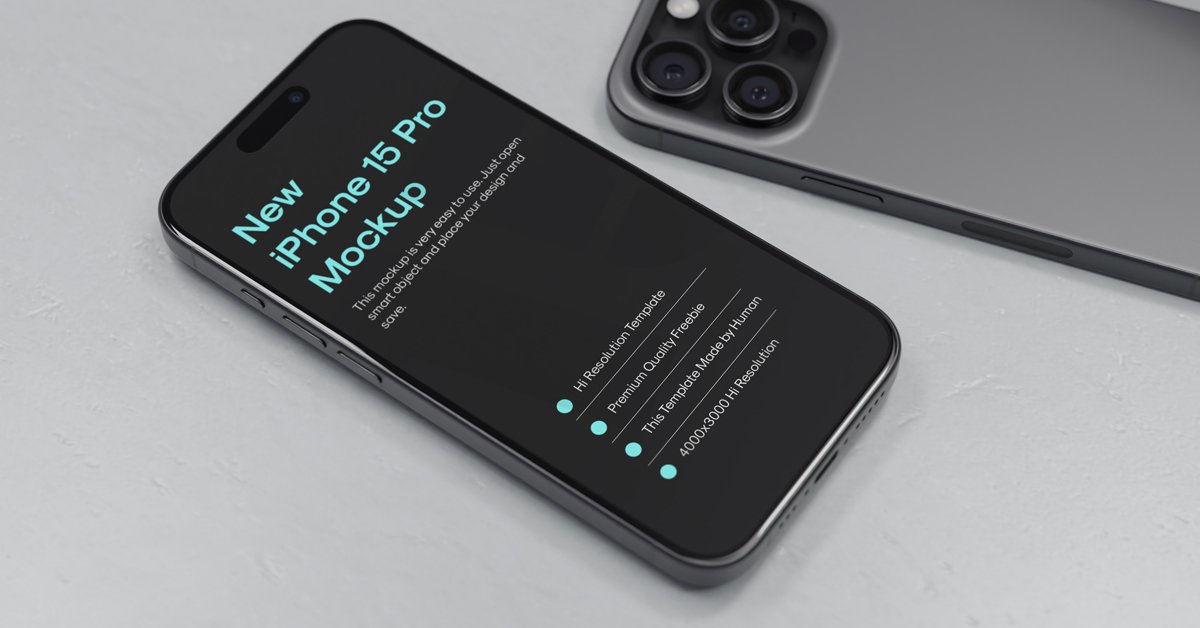 Shop more than 10,800 iPhone mockups from independent creators!
Free iPhone 15 Pro Mockup | Boost Your Productivity
Introducing the Brand New Free iPhone 15 Pro Mockup – PSD, Photo Realistic, 300 DPI, 4000×3000 Resolution!
Are you a design enthusiast or a professional looking for the perfect mockup to showcase your creative work? Look no further! We are excited to introduce our latest creation: the stunning Free iPhone 15 Pro Mockup, designed to take your design projects to the next level.
Key Features:
Photo Realistic: Our mockup is meticulously crafted to provide a photo-realistic experience, ensuring that your design presentations stand out with authenticity.
High Resolution: With an impressive 4000×3000 pixel resolution, this mockup captures every detail of your design, delivering clarity and vividness.
PSD Format: Available in PSD format, this mockup offers maximum flexibility and compatibility with various design software.
300 DPI: Set at 300 dots per inch (DPI), this mockup guarantees sharp, detailed visuals that leave a lasting impression.
Brand New iPhone 15 Pro: Stay ahead of the curve by showcasing your designs on the latest and most innovative device. The iPhone 15 Pro represents cutting-edge technology and style.
Whether you are a graphic designer, app developer, or marketing professional, this free iPhone 15 Pro mockup is the ideal tool to bring your creative visions to life. It's perfect for:
App Design: Display your app interfaces with the realism they deserve.
Graphic Design: Showcase your artwork, logos, and branding materials professionally and visually appealingly.
Marketing: Create stunning visuals for your marketing campaigns and leave a lasting impact on your clients and audience.
Best of all, it's absolutely FREE! Download our Free iPhone 15 Pro Mockup today and take your design projects to new heights. Don't miss out on this incredible opportunity to elevate your design work. Start now and make your designs shine! Remember, first impressions are everything. Checkout the animated iPhone mockup too…
File Adobe Photoshop
Dimensions 4000×3000
Size 26.6 MB